The work of digital transformation in all sectors was accelerated by the advent of the COVID 19 pandemic. When it comes to tech initiatives, 54% of companies worldwide said they are prioritising digital transformation, while 49% are prioritising cybersecurity (Flexera, 2021). Business is pivoting to accommodate the move to stay indoors on the trail of global pandemic which abruptly and suddenly forced schools and higher education institutions to digitalise. Whilst the need of a digital learner in the hyper connected current climate had previously been discussed in academia, the pandemic made it a reality. Virtual learning environments, Zoom classrooms and online examinations were instituted. Teaching and learning has benefitted from this evolution; however, this is not the only service offered by higher education institutions.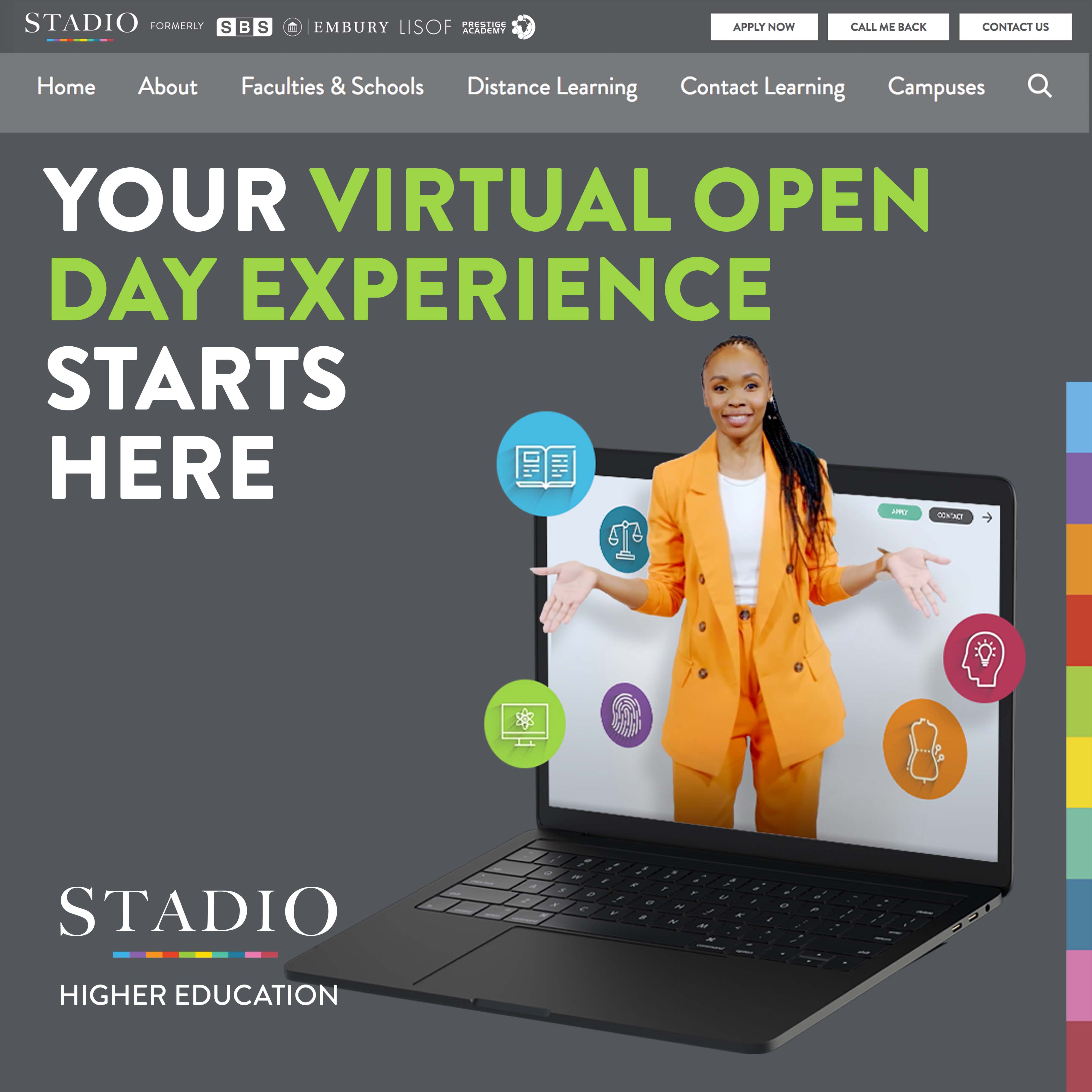 The occasions of open days which opened the halls of higher learning to all students and provided insight for school leavers on the campuses and what they offer, soon became hampered by the issue of numbers and guest restrictions. The value of face-to-face consultations in providing the right advice to students starting their academic journey during open days cannot be underestimated. These encounters are invaluable in allowing students transitioning to tertiary education to find success in understanding all their options and making the best choice to match their aptitudes with their ambitions. STADIO campuses worked hard to ensure that we made options available to students, however there was a need to provide an open day option which students could access without having to travel or resort to the telephone. We began seeking an integrated solution, one which offered an interactive experience that would make the choices and study of options in STADIO easy for the student to negotiate from wherever they were.
After considerable research, STADIO has partnered with 9mm Films and Ogilvy, and software platform Eko, and in a first-of-its-kind for South Africa launch has opened the virtual doors to the first fully interactive immersive open day video experience. Featuring a dynamic cast of STADIO academics, SRAs and actors, a variety of videos were scripted and filmed and kept under wraps whilst our production teams began the construction of a 'choose your own adventure' style virtual open day experience. STADIO is proud to launch their online virtual open day, where you can explore the whole world of STADIO, see all our campuses and learn how to apply from the comfort of your own home. Prospective students will also have an opportunity to have encounters with our academics who will provide insights into their areas of specialisations. STADIO also included alumni feedback so students can hear directly how their time studying STADIO's work-focused, industry-aligned qualifications has helped them excel.
Ensure you check out the STADIO Virtual Open Day today not only because you can learn everything about the world of STADIO in an experience you can tailor-make to your preferences, but also to experience a first of its kind interactive video experience. The Virtual Open Day is open to all students now. So even if you can't reach us, STADIO is moving closer to you!