Have you been wanting to get into the world of fashion, but don't know where to start?
A Higher certificate in Fashion Retail is a fantastic starting point for anyone unsure of what they want to do or become within the multifaceted world of the fashion industry.
By definition, we know that fashion is constantly changing, and so is its multi-billion-dollar industry. The way customers shop continues to shift due to the rise of e-commerce and the influence of social media. A job in fashion retail is therefore no longer a singular set of responsibilities but rather a contribution across all functions within the spectrum of retail and fashion.  
Recent statistics show that whilst online shopping has drastically increased over the past years in South Africa, especially during the pandemic, still 64% of customers want to see, touch and try on merchandise instore before buying it (PWC, 2021). With this in mind, a career in Fashion Retail is such a relevant avenue into the world of fashion as it is the first point of contact a customer has with the product.
A Higher Certificate in Fashion Retail will not only give you a very good perspective and understanding of the dynamic fashion industry, but will also expose you to the processes of retail management, visual merchandising, sales training and business management, to name a few as part of its curriculum.
The fashion industry can somewhat be compared to an iceberg. There are parts that we can see above the water, the tip of the iceberg; and there are parts that we can't see, that are hidden beneath the water's surface.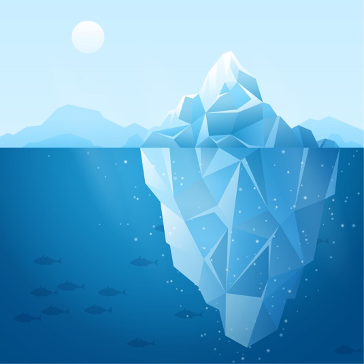 (pikisuperstar, 2022)
The parts of the fashion 'iceberg' that we can see: famous designers' collections, social media content, successful brands, garment on the high-streets of fashion capitals, and runway shows are only the tip of this exciting industry.
The rest of the fashion world, the bottom of the ice-berg, the parts that remain under water, are the heart and soul of what makes the fashion industry happen!  
This Fashion Retail course is aimed to introduce you to the bottom part of the iceberg, the world of fashion and retail spaces from topics such as: Managing a business; how clothes are made and produced; Consumer behaviors (when, how much and what customers buy); basic computer and communication skills for business acumen; styling and visual merchandising; understanding the importance of trends and trend analysis in fashion; and so much more!
Whether you are a creative, looking to understand and gain business and management skills, or maybe you're a natural entrepreneur looking for more insight and understanding into the world of fashion, this course is perfect for you! We will not only look at practical, useful and relevant industry skills, but also acumen that will give you a great stepping stone into more detailed parts of the industry to kick-start your career! 
On completion of this course, you are able to facilitate industry professionals with a wide range of tasks as well as gaining experience and skills that can help you morph into multiple avenues and careers, such as:
visual merchandiser,

assisting in many aspects of running a business,

styling of merchandise,

basic processes and financial understanding

assisting with production and manufacturing,

and so much more!
This 1 Year Higher Certificate can also give you access into diploma or bachelor's degree programmes for you to grow in the direction you wish to go within this complex and dynamic industry.
Gear up and let's take a dive beneath the waters of the fashion world!
rgb(248,58,34)